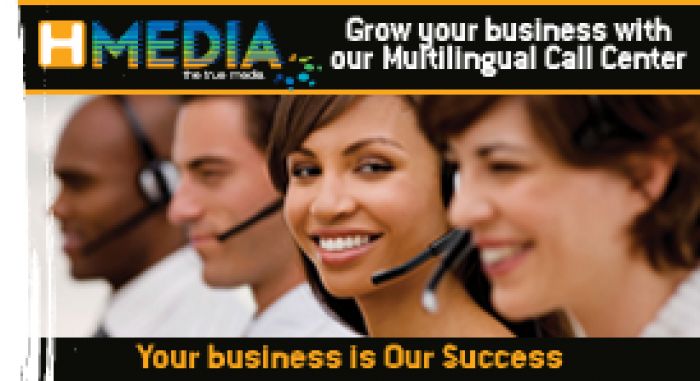 Call 11810 and quickly find phone numbers, as well as a range of other information and services that simplify your life. The only multilingual telephone directory in Greece, 11810 provides information in ten languages. Get rid of the boundaries in your life!
Let us introduce you to our multilingual team that can help you organize your business on-line. Our call center is now at your service and our overriding objective is to make your work as productive and enjoyable as possible, whether it is business or pleasure. We guarantee individual, personal attention tailored to your specific needs. If you want to outsource your call center we can be your partner in any part of the world! Our innovative technology places our services above any competitor's in quality and price.
Founded in 2014, Hellas Media Ltd Call Center provides high standard outsourcing services with an individual approach to each customer. Our clients gain the ability to accelerate their growth and expand their products and services far beyond their internal capabilities, thereby increasing their competitive advantage. Today, Hellas Media Ltd Call Center, based in Athens, Greece, is among the most rapidly developing multilingual call centers in Eastern Europe.
Through the years, Hellas Media Ltd has been partnering with dozens of companies worldwide, providing a wide range of outsourcing services. Our focus on technology helps us accumulate world class professionals who thrive on our clients' success. Our pool of talent and professionalism ensure our promise of excellence even for the most complex task.
Why HM call center?
In today's tough economic environment, companies are searching for ways to reduce costs, while maintaining high quality.
Outsourcing their services to an east European country such as Greece, with its cost-effective multilingual staff, is an attractive option.
- Almost all operators have university degrees.
- All operators are fluent in at least two languages, and most as many as five.
- Most of our operators have the experience of working/studying in western countries.
- They all have a European mentality.
- Compared to other Eastern European call centers, the cost is lower.
- Sufficient and reliable communication infrastructure (Internet, phone system, power supply, etc...)
- Easy access to professional working force - fast project set up.
- Convenient time zone for any European project GMT+2